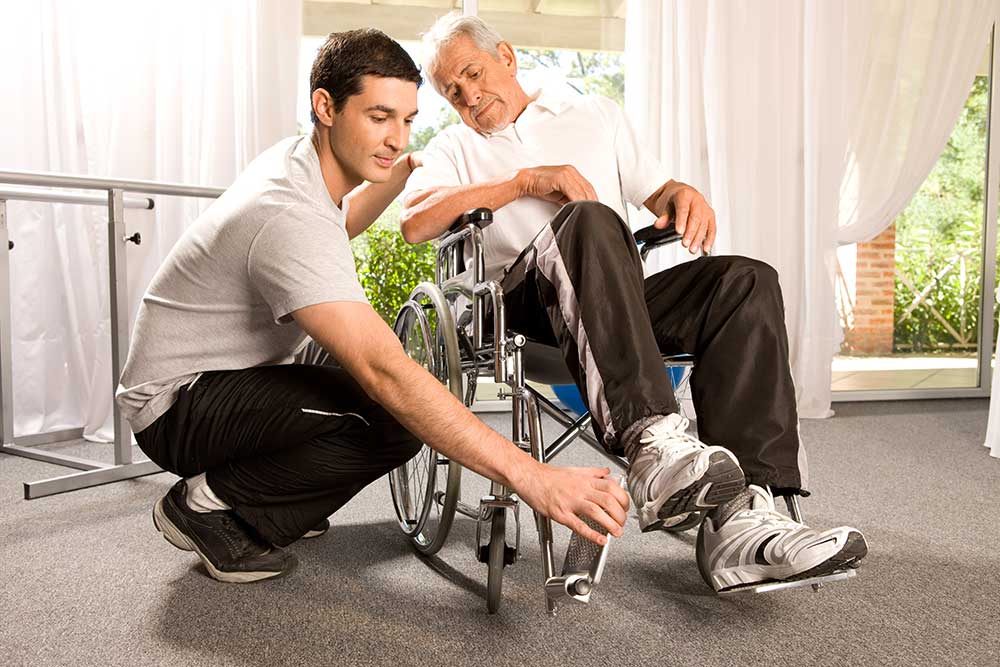 Rehabilitation Psychology
We are not telling you it's going to be easy, we are telling you it's going to be worth it.
Introduction
Rehabilitation is an integrated program of interventions that empower individuals with disabilities and chronic health conditions to achieve "personally fulfilling, socially meaningful, and functionally effective interaction" in their daily contexts.
Rehabilitation Psychology is a specialty area within psychology that focuses on the study and application of psychological knowledge and skills on behalf of individuals with disabilities and chronic health conditions in order to maximize health and welfare, independence and choice, functional abilities, and social role participation, across the lifespan.
Services
Rehabilitation psychologists provide services with the goals of increasing function and quality of life for persons living with disability, activity limitations, and societal participation restrictions. Because disability impacts multiple areas of a person's life, rehabilitation psychologists provide services within the network of biological, psychological, social, environmental, and political environments to assist the persons served in achieving optimal rehabilitation goals via intervention, therapeutic support, education, consultation and interdisciplinary collaboration, and advocacy.
Rehabilitation psychologists who provide clinical and counseling services assist individuals and their significant others in coping with acute or chronic, and traumatic, progressive or congenital injuries or illnesses, that may result in a wide variety of physical, sensory, neurocognitive, behavioral, emotional, and/or developmental disabilities. Common populations with whom rehabilitation psychologists work include persons with spinal cord injury; brain injury; stroke and other health conditions typically associated with aging; amputations; neuromuscular disorders; chronic pain; other medical conditions, such as cancer, AIDS, multiple sclerosis, or limb weakness, that have the potential to limit functioning and participation in life activities; developmental disorders such as intellectual disabilty and autism; psychiatric disability; substance abuse; impairments in sensory functioning, such as deafness and hearing loss and/or blindness and vision loss; burns and/or disfigurement; and impairments that may be compounded by cultural, educational and/or other disadvantages. In addition, rehabilitation psychologists address the implications of the injury or health condition as the person's needs change over time.
Problems
The specialty of rehabilitation psychology addresses behavioral and mental health issues faced by individuals across the lifespan who are affected by any injury or chronic condition that leads to disability, including issues such as:
Emotional coping, mental and psychological status.
Behavior that promotes positive adaptation to disability.
Minor adjustment issues as well as severe psychopathology.
Procedures
Administration of standardized and non‐standardized tests of cognitive and psychological functioning; behavioral observation methods; and culturally sensitive interviewing techniques.
Evaluation and treatment of both individual and family/caregiver coping and adaptation.
Individual and group interventions including counseling and psychotherapy, cognitive remediation, behavioral management, enhancing use of assistive technology, and facilitation of healthy team functioning.
Some of the problems that rehabilitation psychologists treat may be mental or emotional, and they may include such things as depression, anxiety, developmental disabilities, and learning disabilities.
Types of rehabilitation
The three main types of rehabilitation therapy are occupational, physical and speech. Each form of rehabilitation serves a unique purpose in helping a person reach full recovery, but all share the ultimate goal of helping the patient return to a healthy and active lifestyle.
Occupational rehabilitation
Occupational therapists provide occupational therapy (OT) treatments to help individuals who require specialized assistance to participate in everyday activities, or "occupations." Occupations don't just refer to work or your job, but can also refer to self-care practices, everyday tasks and recreational activities. The goal of occupational therapy is to help individuals participate in the things they want and need to do to live an independent and satisfying lifestyle.
Occupational therapists help by making changes to things that hinder someone's ability to complete tasks such as eating, dressing, brushing one's teeth, completing school activities and working. Modifications may include changing the way the task is approached, changing the environment in which the task is completed or helping a person develop skills necessary to complete certain tasks.  
Who needs occupational therapy?
Occupational therapy may be needed by people of all ages, from newborns to seniors. There are endless ways in which occupational therapy may help these individuals, such as:
Children with physical disabilities may need a therapist to help them develop the coordination needed to feed them, use a computer or improve their handwriting.
Adults with depression may require recommendations from a therapist to re-engage in daily activities gradually and in a manner that maximizes their chances for success.
An individual who has lost the ability to hold a fork due to an injury may work with a therapist to regain grip strength and modify movements so that they can feed themselves independently.
Seniors with physical limitations may need help from a therapist to participate in activities they love in new and modified ways.
Those who have suffered a spinal cord injury may require therapist intervention to help them avoid movements or behaviors that may worsen their injuries.
Corporate professionals may work with a therapist to create an optimal work/life balance designed to reduce stress and maximize health or modify their work environment based on ergonomic principles.
An individual who has experienced a traumatic brain injury and lost cognitive function may require a therapist to assist them with tasks such as applying to jobs or submitting college applications.
Physical therapy
Physical therapists provide treatment for those who are experiencing pain or difficulty in functioning, moving or living life normally.
Physical therapy is commonly used to relieve pain, improvement movement, provide rehabilitation after a stroke, injury or surgery, assist in recovery after giving birth, assist in the recovery of sports-related injuries, teach individuals how to use devices such as walkers and canes, manage chronic illnesses like heart disease or arthritis, and more.
If physical therapy is recommended by your doctor, a therapist will start by assessing your mobility, balance, heartbeat, posture and how well you can walk or climb steps. From there, your therapist will develop a plan to ease symptoms and help you regain functionality or mobility. Common therapies include:
Special exercises and stretches designed to relieve pain, improve mobility or regain strength
Massage, heat or cold therapy or ultrasound to ease muscle pain and spasms
Rehab and exercises to help you learn to use an artificial limb
Practicing with gadgets that assist in movement or balance, such as canes, crutches, walkers or wheelchairs
Balance and gait retraining
Pain management
Cardiovascular strengthening
Casting, splinting, burn care or use of orthotics (braces or splints)
Speech therapy
Speech therapists (or speech-language pathologists) provide treatment for those who have speech issues. Speech therapy can help treat a wide variety of issues involving language, communication, voice, swallowing and fluency. For newborns, a speech therapist may help with conditions such as cerebral palsy, cleft palate or Down syndrome that cause difficulties with drinking, swallowing or communicating.
Children with speech issues such as stammering or a lisp can benefit from communication exercises under the instruction of a therapist. Adults with learning difficulties or who have another condition, such as stroke, neck or head cancer, Parkinson's disease or dementia, can also benefit from the help of a speech therapist.
The goal of speech therapy is to combine the mechanics associated with speech with the use of language. The end result is to help the patient communicate in more useful and functional ways.
Common tactics used by speech therapists include language intervention activities (language drills to practice communication skills), articulation therapy (demonstrating how to move the tongue to create certain sounds), and feeding and swallowing therapy (tongue, lip and jaw exercises designed to strengthen the muscles of the mouth and throat).
Conditions or illnesses that may require a speech therapist include:
Dyslexia – difficulty reading accurately and fluently
Dyspraxia – difficulty controlling muscle function for movement, coordination, language or speech
Aphasia – a loss of ability to understand or express speech due to brain damage
Dysphagia – difficulty swallowing
Articulation problems – difficulty speaking clearly and making errors in sounds
Fluency problems – difficulty with the flow of speech, such as stuttering
Resonance or voice problems – difficulty with voice pitch, volume and quality
Oral feeding problems – difficulty with eating, swallowing or drooling
Parkinson's disease
Cerebral palsy
Cleft palate
Down syndrome
Multiple sclerosis
Huntington's disease
Cancer of the head, neck or throat
                                                WE ALSO WORKED IN THIS FIELD